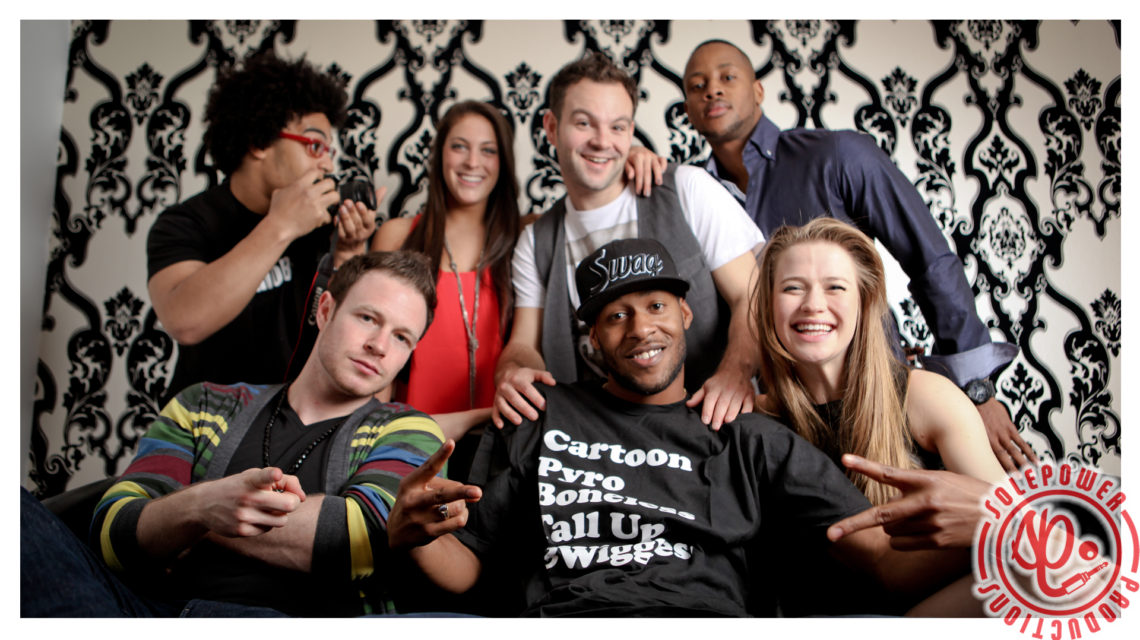 Ten years, wow…. It really does feel like just yesterday. Four of us met at an all night Chinese food spot in my old neighborhood and made it official – "Lets do this"! We were ready to rock and roll, literally . Lol, we had no idea what we were in for. Sole Power was born with a loan from my best friend, some cheap DJ equipment that we stored in my mom's basement, and some really cool jackets (my idea). They were spring jackets and it was wintertime, but the winter jackets were too expensive. So Sole Power began… cold! We were all young, super green, and more wild than I can admit here. But we were passionate. VERY passionate… We shared vision, strategy, concepts, and branding ideas, but most of all we had fun. Lots and lots of fun!
It's been the ride of our lives, and although some have come and gone (including two of the original four), some have changed careers, some are married with families, some are living on the other side of the world, and sadly one special guy is up in the heavens — we have been and will forever be a SOLE POWER FAMILY.
As I sit back and reflect on my ten year journey in this game, I can't help but smile thinking about all of the amazing moments we have been a part of. Like the 2010 Winter Olympics in Vancouver, our Guinness Book of World Record setting night to raise money for one of our family members who had lost his father, tours around the globe and back, late nights turned into early mornings, and many more visits to that all night Chinese food spot.
But what stands out even more than the moments in time are the incredible people I have met along the way. The people who have inspired me, taught me, mentored me, embraced me, and allowed me to be me. They laughed along at the funniest jokes, and stood by me at the saddest of times. It's to all of you that I say the most humbled and sincere thank you. Friends, family, staff, clients, peers, co-workers, competitors, partners, and even a few randoms…. THANK YOU.
In a small token of my appreciation I wanted to acknowledge each and every one of you here. I want you to know that with this very small gesture of listing your name — I acknowledge you. I appreciate what you have done with me and for me, I care about you, and so again I say… Thank you!
Adam Banack• Adam Farberman• Adam Gill• Adam Gordon• Adam Jones• Adam Korson• Adam Ritchie• Adam Shulman• Adam Swaye• Adam Tune• Adam Turner• Adrian Holmes• Alana Bridgewater• Alana Goodman• Alessandra Nicole• Alex Mallinos• Alex Stuetler• Alexandra Crenian• Alexis Baro• Alison Kadlovski• Allan Bisson• Allan Vegotsky• Allison & Adam Hennick• Allison and Peter Menkes• Amanda Bayly• Amberley Wadell• Amy Polevoy• Andre Dennison• Andrea Solish• Andrew Bockner• Andrew Chung• Andrew Muroff• Andrew Novak• Andrew Oliver• Angela Feldman• Angela Zaltsman• Anita Robins• Anitra Mathers• Anton Wright• Arla Litwin• Arthur Kerekes• Arthur Kinney• Ashlee Firsten• Ashot Grigorian• Atul Baber• Aubrey Graham• Aubrey Green• Avi & Irena Greenspoon• Barbara & Gary Awenus• Barbi Castelvi• Barry Schwartz• Benjie Schwartz• Beth Groene• Beth Sokol• Betty Little• Biko Kerr• Bill Fulghum• Bo Ming Lam• Bonnie Gersh• Bonnie Goodman Bloom• Bonnie Shore• Boogie Brats• Bram Simbrow• Brandon Klein• Brandon Spring• Breanne Ariggo Reilly• Brenlee Gales• Brenley Shapiro• Brian Melo• Brian Mosoff• Bruce Young• Bryan Brock• Caleigh Randev• Calvin Beale• Camille Stopps• Candice Kaye• Candice Torch• Carlena Britch• Carol Weinbaum• Cary Silber• Caryn Silverstein• Cathy Walderman• Chana & Menachem Gansberg• Charles Kay• Cheryl & Jamie Salter• Chops Horns• Chris McGill• Chris Powling• Christian Ancheta• Christopher Borowski• Cindy Rachlin-Garbe• Cindy Turk• Cliff Beltran• Colin Desveaux• Corey Mandell• Cory Gosselin• Courtney Niven• Drake• Craig Brooklyn• Craig Gruzd• Craig Hill• Cris Rouse• Cut-Creator• CWSC• Cynthia Cooperstone• Damon Dash• Dan Celebre• Dan Jankelow• Dan Wolpert• Dana Levy• Dana Mercer• Danae Rowan• Dane Gulston• Daniel Rinzler• Daphna Grossman• Darren Sager• Dave Campbell• Dave Gluck• Dave Watson• Dave Weisz• David 'Soul Fingas' Wiliams• David Chapman• David Hart• David Harwood• David Matisse• David Moore• David Silber• Davin Bujalski• Dean Macdonell• Debbie Ambar• Debbie Bernstein• Debbie Wagman• Deborah Gee• Deena Grossman• Dennis Mills• Derrick Brown• Deshaun 'Lil Wiggles' Clarke• Dina Katsoulis• DJ Am• Dj Drastik• Dj Drone• DJ Grouch• Dj Hedspin• Dj Illo• DJ Jr Flo• DJ Pump• Dom Chiaromonte• Donna Silver• Dori Applebaum• Doris Alter• Dorit & Ezer Mevorach• Dwayne Gulston• Earl and Barbra Klein• Edan Kaufman• Edith & Bruce Silcoff• Edmund Duarte• Elan Baron• Elana Kochman• Eli and Anita Dadouch• Elisa Palter• Elise & Bernie Gropper• Ellen Freedman• Ellen Nash• Elliot Sylman• Ellise & Fred Benitah• Elvira Devan• Emil Balogh•  Emily Einsmann• Emma Kenley• Eric Benchimol• Erin Zafer• Estelle Goldstein• Esther Goodman• Esther Moyal• Evan Aranoff• Evan Babins• Fahim Mohammad• Farhan Rahman• Fern & Paul Goldman• Fern Cohen• Fern Hoffer• Francois Moulder• Frank Luisi• Frank Ray• Fred and Tracey Rubinoff• Gabe Gallucci• Gail and Harry Goldgut• Gail Somer Wilson• Gail Sussman• Galia Kaufman• Galya and Anthony Hoffer• Geoff Torn• George St Kitts• Giancarlo 'Lo' Falcioni• Gita stein & Julie Drago• Glenda Barbalat• Gloria Benaim• Goldie Marks • Goldie Schermann• Gord & Lisa Cohen• Gordon & Ruth Berger• Grandtheft• Greg Dean• Greg Evans• Greg Stokes• Hanna Ohayon• Harriet Goodman• Harry Silberberg• Heather Hart-Sussman• Heather Levy• Heidi Gruenspan• Hudson Taylor• Ian Andre Espinet• Ian McIntyre• Ian Mcllveen• Ian Roy• Ilena Rosen Borinsky• Ilinca Vasile• Isaac Drookman• Jack Becker• Jack Goodman• Jackie Rosenberg• Jacqui Cohen• Jacquie and Armando Baldassarra• Jake Berzen• Jake Schnieder• James 'Shamz' Jeziorski• Jamie Kula• Janice and Jeff Bly• Janice Cardinale• Janice Sugar• Jared Drewnowsky• Jared Florence• Jarelle Christie• Jason Drakes• Jason Larmond• Jason Lawrence• Jason Rose• Jason Snow• Jay Clarke• Jeannie Sklar• Jed Harper• Jeff Beber• Jeff Berg• Jeff Dell• Jeff Farbstein• Jeff Kahane• Jeffery Crawford• Jen Weisz• Jenie Stewart• Jenna Tabachnick• Jennifer Deadman• Jennifer & Ken Tanenbaum• Jenny Beard• Jessica Gotfrit• Jian Magen• Jillian Robins• Joanne Ferstman• Joanne Kates• Jodi Denberg• Jodi Vogelhut• Jodi Winick• Joe Bonavota• Joe Kinny• Joey Arfin• John Lee• Jon Corbin• Jon Fishman• Jon Greenbaum• Jon Irvine• Jordan and Faith Banks• Jordan Davis• Jordan Fisher• Jordan Meagher• Jordan Morra• Jorie Brown• Joseph Cimorelli• Joseph Young• Josh Ansell• Josh Howard• Josh Israel• Joyce Tobias• Judith Plotkin• Judy Alter• Judy Kovacs• Judy Naiberg• Judy Stein• Judy Steiner• Julia Guest• Julia Rosenthal• Julia Wenger• Julie Danaylov• Justin Bieber• Justin Bua• Justin Croker• K.D. Rajan• Kacey Siskind• Kaela Faloon• Kalina Sutaroski• Karen Friedman• Karen Garscadden• Karen Jacobs• Karen Shoychet Mccully• Karen Weinstein• Karine Krieger• Karla Simone• Kat Stefankiewicz• Kathy Lash• Kayla Silvestri• Kelly Bongard• Ken Gutman• Ken Sugar• Kenny MacIntyre• Kerry Adler• Kevin Plener• Kibwe • Kilo• Kim Hurdon• Kirby• Kirsten Menkes• Kristen Sivitilli• Kyle Brown• Lamar Johnson• Lara Diak• Lara Kaufman• Larry Tanenbaum• Laura Newell• Laurea Kaufman• Lauren Sivitilli• Lauren Tabatznik• Laurie Davis• Laurie Goldhar• Leora Katz• Lee Cohen• Lennox Liverpool• Leroy Emmanuel• Lesley Garscadden •Leslie Weisz• Lester Mclean• Lewis Robinovitch• Lianne Adelson• Licia Tobias• Lina Marchesano• Linda Reisman•  Lindsey Pallister• Lindy Meshwork• Lisa & Richard Flomen• Lisa Draper• Lisa Feinstein• Lisa Kerbel• Lisa Ritchie• Lisa Rutland• Lisa Sonni• Lisa Young• Liza Mauer• LL Cool J• Lori Resnick• Lorne Yavelberg• Luke Selby• Lynda Weinberg Fishman• Lynn Cohen• Machel Reeves• Marc Mullings• Marc Rogers• Marci Kisliuk• Marci Trachter• Mariano Abarca• Mark & Cheryl Steiner• Mark Greenbaum• Mark Razmov• Marla & Howie Cappell• Marla Abraham• Marla and David Korman• Marla Berman• Marla Brown• Marla Kay• Marla Wasser• Marnie Schwartz• Marsha Baker• Marshal Kideckel• Matt Glickman• Matt Harrison• Matt Roy• Maura Turk• Maureen Shade• Max Roach• Mel Bornstein• Mel Burant• Melanie Bogoroch• Melanie Marcus• Melanie Paulo• Melissa Andre• Melissa Hagerty• Melissa Kay• Melissa Leifer• Melisa Walsh• Melodye Friedman• Menachem Gansberg• Michael Beber• Michael Dequavo• Michael Kaufman• Michael Paisley• Michael Rosen• Michael Shand• Michele Lenick• Michele Revivo• Michelle Hoffer• Michelle Mandell Stern• Michelle Masters• Michelle Rotman• Mike Cota• Mike Favelyukis• Mike Shotten• Miki Klevan• Miles Faber• Milos Angelov• Mindy Conto• Mindy Jacobs• Minerva Kris Mohabir• Mona Ng• Morry Offman• Murielle Bloomberg• Nadine Villasin• Naomi Serkin Silver• Nara Abrams• Natalie Ho• Natasha Manji •Nathalie Goldhar• Nathan Innis •Neil & Karen Glasberg• Neil Brathwaite• Neil Silver• Nick Doerr• Nick Page• Nick Robinson• Nicole Hanko• Nicole Robinson• Nik Duncan• Nikki Grant• Nirvan Wanigasekera• Ohad Kaufman• Oren Baum• Page Magen• Pam & Ian Jacobson• Pam Albert •Pam Freedman• Pam Kravitz• Pamela Klerer• Patti Falus• Paul Mauti• Paula Cantalano• Paula Klaiman• Perri Kirshenblatt• Perry Gilman• Perry Steiner• Peter Chronopoulos• Peter Rabbit• Peter Somers• Phil Hart• Phil Offman• Photo Will• Q Mack• Radcliffe Lee• Raffaele Brereton• Ramy Sallal• Randi Zlotnik Shaul• Raph Kerwin• Raquel Feldberg• Raquel Sananes Grad• Razel Sanders• Reena Schwartz• Risa & Phil Spring• Renee Birnbaum• Richard Emmanuel Foltys• Richard Markowitz• Richard Saunders• Richie Cohen• Rick Cowan• Ricky Bessner• Ricky Lewis• Ricky Tillo• Risa & David Lewenberg• Rita Benzacar-Piltz• Rita Greiff• Rob Halpert• Robbin Younger• Robin Flamer• Robyn & Hayden Solomons• Robyn Greenspan• Roger Williams• Rose Attard •Rose Borenstein• Roz & Todd Schweber• Ryan Freidman Ryan Krieser• Sagit Mansoor Vyner• Sam Zahler• Sandi & Paul Mandel• Sandi Soll• Sarah Cherry• Sara Riley• Sara Smith• Sarah Vance• Sari Gorman• Sari Hanser• Saul Sacks• Scott Mcallister• Sean Abenstein• Sean Kane• Sean Nimmons-Paterson• Sekou Smart• Shack• Shael Rose• Shamar Charles• Shane Lenick• Sharlene Wilder• Sharon Anisman• Sharon Segal Woolfson• Sharonna D'Oronellas• Shawn Byfield• Shawna Orzech• Shelley Goodman Obront• Shelly Stamplecoskie• Sherry Schwartzberg• Shirit Kaufman• Shumaka Ali• Simon So• Sol Birenbaum• Spencer Woo• Stacey and David Cynamon• Stacey Fulcher• Starski• Starting From Scratch• Stephen Smith• Steve Vidal• Steven 'J-Lin' Poole• Steven Polevoy• Stewart  Turk• Susan & Paul Lindzon• Susan & Stephen Cohen• Susan & Steven Wise• Susan Benzaquin• Susan Murray• Susan Spring• Susan Zeldin• Suzanne & Larry Ross• Tactix Andrew James• Tammy Sofer •Taylor Stewart •Team Canada Dj's• Ted Rogers• Teresa Di Pietro• Teri Goodfellow• Teri Wolfson Leese• Thomas Reynolds• Tiffany Antosz• Toben Kochmen• Todd & Ellen Halpern• Todd Silverman• Tom & Karen Earlich• Tracey & Andrew Kay• Tracey Burger• Tracey Sandler• Tracy Zepp• Trevor Florence• Troy Feldman• Tyrone 'T-Rex' Edwards• Tula & David Katz• Vanessa Ciolfitto• Vanessa Melman Yakobson• Vered Kaminker• Vito Amati• Vivian Liu• Walter Vaz• Warren Tobias• Wayne Tennant• Wendy Wengle• Yolanda Do• Yoni Bornstein• Yosvani Castaneda• Yvonne Goldberg• Zach Green• Zack Atlin• Zack Goodman
Looking forward to the next ten years of creating and re-creating together.
Love, Respect, and Gratitude,
Abby Tobias
President
Sole Power Productions Inc.
SOLE POWER X
December 9 2002 – December 9 2012.